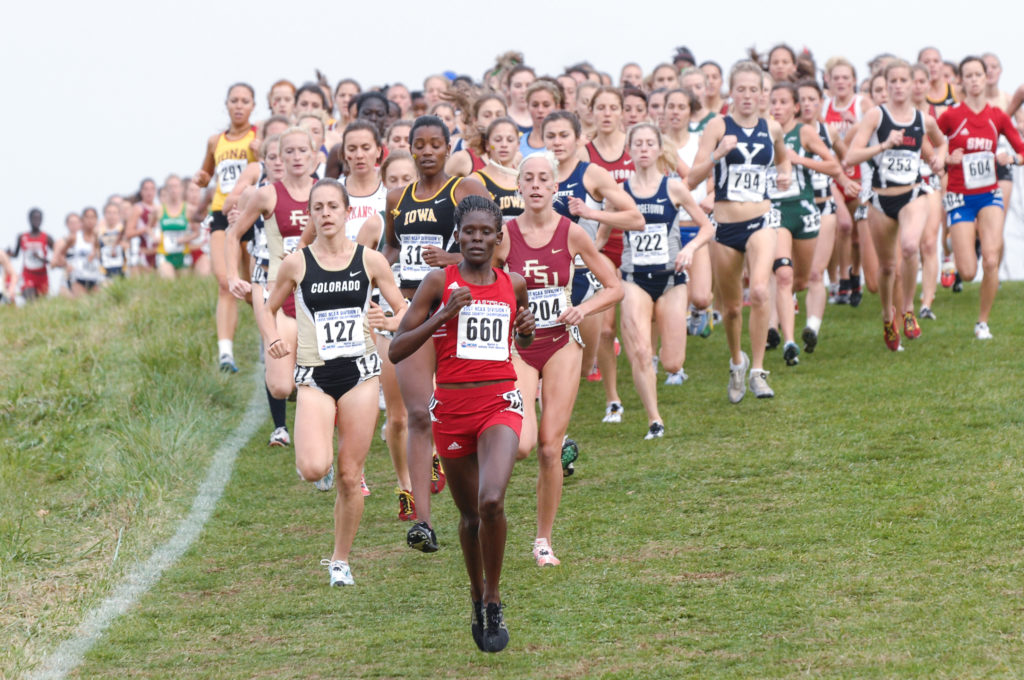 Sally Kipyego was born in Kenya but came to the U.S. to attend South Plains College, where she won seven NJCAA titles, before moving on to Texas Tech, where she added a record-tying nine NCAA titles. Kipyego earned silver medals in the 10,000m at the 2011 world championships and the 2012 Olympic Games for Kenya. She became a U.S. citizen in 2017, and became a mother later that year (after infamously finishing second at the 2016 New York City Marathon while she was unknowingly pregnant).

Kipyego, 34, has been open about her challenging return to fitness after giving birth, but in February, she proved herself to be one of the best marathoners in the U.S., finishing third at the U.S. Olympic Marathon Trials in Atlanta, where she earned a spot on the U.S. Olympic team.

We caught up with Kipyego by phone last week, from her farm on the outskirts of Eldoret, Kenya. Kipyego had recently returned from a two-month trip to the U.S., to train with her Oregon Track Club teammates. She traveled without her husband, Kevin Chelimo, and 3-year-old daughter, Emma, and cut her stay about a week short, fearing that the lockdown in the U.K. and travel restrictions in Europe might prevent her from returning to Kenya. The following has been edited for brevity and clarity.
Fast Women: Up until your early departure, how were things going in Oregon?
Sally Kipyego: Everything was going fantastic. I like to go back to Oregon for training in the winter and to get my base going and hit the gym a little bit more. Just to have my coaching staff be able to observe and see things to work through for the next season. I traveled by myself. I left my family behind with my three-year-old.

Is it hard being away from your family for such a long stretch of time?
It's so difficult. My husband and I have had our own ways of being away from each other, but now that we have a little one, it's different, and I hadn't been away from Emma for that long before. I think the longest I'd been away from her was two weeks, so this was a long stretch. It was difficult emotionally. But it kind of just makes you want to work a little bit harder to make it worth it. It was definitely hard. I don't think I'll be doing that again any time soon.
Is the plan to stay in Kenya for a while? Is it hard to make plans right now?
We always have a tentative plan, so the plan is to go back to the U.S. around February, March, and April, but it depends what is happening with Covid. You can't really plan anything right now. You plan and be flexible about it. If we can travel and races are not canceled, I think we'll be able to travel back to the U.S. as a family maybe late February, unless I can race before that.
What kind of races would you ideally be running?
Initially I was going to train for the Boston Marathon, but then that was canceled. I also thought I was going to run the Houston Marathon, but that was canceled, too. At this point, I'm just kind of getting ready for whatever is available. I don't think I'll do a spring marathon, I think we'll stick with half marathons, 10Ks, just to kind of get some speed going and get a little bit quicker on my feet before we build up for the Olympics. I haven't really been training for a marathon. I've been training [for] 10Ks and half marathons. I have tried to stay away from the grind of marathon training, just to make sure that when I get going again to get ready for the Olympics, I will be fresh and ready.
How is the Covid situation in Kenya? How does it compare to what you were seeing in the U.S.?
It's better than the U.S. for sure. The cases are not as terrible, the cases are not as high. It is still rising, so we haven't gotten to a point where it has stabilized yet, but compared to other places in the world, it's much better. We live in the outskirts of Eldoret, and we try to stay away from the cities. We feel pretty safe out here, it's kind of in the middle of nowhere. Things are pretty laid back and we avoid going to the city as much as possible.

Do you have any training partners there at all?
At the moment, I'm just training by myself. My husband and I sometimes run together, but mostly by myself. I might run into one or two neighbors and we go for a run, but not necessarily as a training group.

When you're in Oregon, do you have people to train with much? Or are you doing different things because of your varying events?
I work out with the boys, I work out with Hanna Green a lot, and some of the 800m and 1500m guys. I really didn't train by myself in Oregon, I always had company, so that's something I'm missing a bit. Even though they run the 800m, I still help them with the strength stuff and they help me with the speed.

Have you had any trouble staying motivated this year, without races?
It has been difficult. I really shouldn't even say "difficult," because too many people are having such a difficult year. The uncertainty, I would say, is the difficult thing, because we're not able to plan for anything. I think most of us elite athletes tend to be very plan-oriented. We plan for things way in advance and when the calendar is blank, it's kind of difficult.
I didn't realize how difficult it would be to train for nothing, basically. I always plug races into my schedule one or two years out, and just to look in my calendar right now and have nothing in there, it's kind of difficult on your psyche. At the same time, I know I have a race coming up, when the Olympics happen, so that gets me up. I've found ways to stay motivated and push myself a little bit more.

How different is your daily schedule when you're in Kenya compared to Oregon?
It's very similar. My coach and I speak every weekend or so to catch up and see how the workouts are going and plan for the next week's sessions. My schedule is the same, it's just different here because I live on a farm. I do things other than run. I find myself quite busy on this other end of the world. In Oregon, I can relax, watch Netflix, and kind of just chill. Especially during the winter. While here, it's warm and sunny and bright and all day long, I find myself on my feet more than I should. I find myself doing things that I normally wouldn't do in Oregon because of my settings, my settings are completely different. I'm keeping chickens and I have a garden…you know.

How much of the farm work are you doing yourself?
We have a lot of people helping, but you find yourself doing things here and there. My husband is really into it, he's really the farmer, but I find it difficult to stay still and recover the proper way. I have to force myself to actually recover and sit still.
I saw your post about voting, was it exciting to vote in your first presidential election?
Oh yes, absolutely. I figured I was going to be in Oregon, that was something I had to do and I had to get a photo. It was just a drop-off, but I felt like that was a huge moment. It's good to vote in a presidential election for the first time.
When you talked to Runner's World in April, you sounded disappointed about your Olympic Trials race, is that an accurate assessment? Did you feel like you underperformed there?
Yes, I did. And I mentioned in that interview that I know it's difficult to say I'm disappointed, because I made the Olympic team. I'm grateful, don't get me wrong. The point was that I was disappointed because I felt that I was fitter than that and I felt like I was ready. I came into the Trials basically to win. More than anything, I was surprised that I didn't perform as well as I thought I would because I felt really ready, I felt really fit. Was it a case of me having a rough day or was the course harder? But I looked at the competitors and a lot of people struggled, so maybe it was the course, maybe it was me. I made the team, and that's huge, but I also wanted to win, and I felt that I was ready.

You mentioned on Lindsey Hein's podcast that you'd like to win a world marathon major title and an Olympic gold medal. Is that what you're focusing on now?
Before I retire, I would like to win Olympic gold and a world marathon major. I have an Olympic silver medal and I've finished second at a world marathon major, so it would be nice to just top those two.

The women's field [for the Olympic marathon] is just ridiculous. There are athletes that are running incredible times right now. So it can be daunting and almost intimidating when you're training to race against those women, but you have to approach it from that mindset. For example, I'm probably going to be running against someone who has run 10 minutes faster than I have. That's just scary even to think about it, but at the same time, this is a championship and anything can happen. Wild things happen. All you need to do is be competitive on the day. I'm trying to be in the best position to be competitive and when the opportunity presents itself, you might surprise yourself.

You've talked about your pregnancy, childbirth, and postpartum struggles before and I really appreciate that, because we don't always hear as many of those stories. When did you really start to feel like things were clicking for you again?
It took maybe 14 or 15 months. It felt like I struggled for so long. I always write everything down, and looking at that, I was making progress, I just didn't feel like I was making progress, because it was difficult. I didn't have one of those stories that you have a child, a few months later you come back and by the time your child is one year old, you're running really well. That wasn't my story. It was a difficult one because my body kind of resisted, to be honest. It basically was fighting in every possible way. I raced when she was nine months and I ran a 10K in Boston, I think it was 34:09 or 34:10. It was an okay showing, but I felt nothing like myself.

Is there anything you can take from the whole experience, or anything you would have done differently, in retrospect?
I expected a lot of different things. I read a lot of things, I over-planned for things, and I expected things to be different. I was surprised and I was kind of caught off guard by what happened. First of all, I thought I was going to be able to run through my pregnancy, because I'd seen all these women run through their pregnancy and do really well. I thought, "Surely I'll be fine, my body's feeling okay, I'll be able to do it." It turns out I couldn't. Every time I would try to run, I would have so many issues, so I had to stop around 18 weeks of my pregnancy. That was a surprise. I think in the future, I might go in with a more open-minded approach that maybe I might not even be able to train.

Another thing is that I wish I had a personal trainer after I gave birth, because I had so many weaknesses in so many areas, in my hips and pelvis, because so much movement happens during pregnancy and childbirth. You get a lot of changes. And I just wish that I had someone look at me, and I wish I had the specific strength training, because I was back to doing normal things that I did before having Emma, and looking back, maybe I should have done more specific things to get my body strong to be able to handle the training. At the same time, we are all different. You can't read one story and think that's normal.

I want to make sure to ask you your thoughts on the racial reckoning that the U.S. has been experiencing since May. Were you in the U.S. while the protests were at their peak?
I wasn't, but everywhere in the world, we read about it. It was a difficult time, but a very necessary time. It's time. It's time for that, it needed to be addressed, and I hope that we get better as a country. I hope that we move forward and we just become better—better human beings to each other, more considerate, more inclusive. I just hope that all this is not in vain. I hope that real change will happen.

Did any of it cause you to reflect differently on the experiences you've had living in the U.S.? I remember you saying on Lindsey Hein's podcast that you didn't have a lot of shoe contract offers coming out of college. Is that something you would attribute to racism?
No one ever made a judgment based on skin color when I lived in Africa. I didn't even realize that there were conditions that came with that until I was in the U.S. and I realized, "Oh, there are some expectations, some connotations, that come with me being a Black woman." And most of them were not positive, most of them were negative. You start learning these cues and you start realizing what society is always thinking about you.
Obviously I've experienced unfairness, even coming out of college, I didn't have a lot of companies that wanted to sign me. I don't know if that had to do with my color or whatever. But I feel like, just based on how I was performing, I was running really well. Probably if I was a different-looking kind of girl…but I don't know, I can't speak on that. But society [needs to] acknowledge that we are all equal and we all deserve whatever's on the table.

I'm raising a Black child who is American. I hope that down the road, she doesn't have to fight so hard to just be acknowledged and just to be like everyone else. I hope it gets better both for her and her children.

Are there ways in which you think the running industry can do better?
I think the running industry can help. It's huge what we tell young girls and young boys. When you print a poster or you print a magazine, and all of the images are of white women, it's very difficult for a Black little girl, an Indian little girl, or an Asian little girl or boy to look at those images and recognize themselves. They're not reflected in anything, so it's really important that the running industry is inclusive of everyone else. That way the upcoming generation can see themselves.

I think shoe companies can try to be more diverse. If you have athletes who can compete, try to give out those opportunities to a more diverse group of people. That promotes the younger generation to see themselves in the older generations.

Speaking of representation in magazines, there's been some coverage of your story, but not a ton since you made the U.S. Olympic team. Are you avoiding the spotlight somewhat, or are people not reaching out?
I don't avoid it. I don't think I turn down interviews, I talk to the people that want to talk to me and the people that are interested in having a chat. I'm always up for a chat. So no, I don't turn anything down. But I also wouldn't just want to be put somewhere just for the sake of saying, "Oh, we have a Black woman." Different people, different companies, and different magazines, they have a following and they have their own objectives and goals.Whatever they want to promote, whatever they want to show, whatever they want to share, that's their say. So if someone felt they wanted to talk to me about something, that's fantastic. I think that I would be open to that, but that's their call. But I'm perfectly fine, trust me. I live on a farm in Kenya (laughs).

How do you feel about social media?
I am terrible—that's maybe another reason why I'm not being interviewed that much, because I am never present anywhere. As you can tell if you follow me on social media anywhere, I'm not good at it, it's the last thing that ever occurs to me. After one month, I have to remind myself, "Oh, you might want to share something." I don't remember it, I don't think about it. On the list of things on my plate, it just doesn't occur to me. And I know it's part of the job, you're supposed to do these things, but oh God, I am terrible and it's a real struggle.
That's funny, I feel the same way. But at the same time, I also enjoy following some of the people who are more reluctant to post, because when they do post, it's often refreshing and not the same as what everyone else is posting. I imagine the photos you could take in Kenya. Seeing your day-to-day life would be so interesting.
It's not. It's me chasing chickens (laughs). The thing with social media, for me personally, I am really happy to sit in a corner and I hibernate. People that know me know this. Especially when I'm really getting ready for a big race, I tend to hibernate. I hide away and I don't want anything to do with anyone. I do that for months at a time. That's my life, that's living for me, and any time I have to come out of that it's like, "Ohhh, we have to do this again." I like my hiding. I thrive in that. I thrive in getting away and not being bothered by anyone. So I actually feel like my life is quite boring. What am I going to tell you about? I have nothing to tell everyone all day long every day, twice a day, I really don't.

Do you look at social media much?
I look at social media, especially for my news. I mean you shouldn't really be getting your news from social media, but I feel like if I want to catch up on what's happening, I'll scroll through social media for like 20 minutes so I know what's happening in the world, and then I kind of throw my phone away. I always leave my phone in the house and I rarely look at it and I always have a ton of missed calls, because I'm never really close to it. That's just habit, and it's not like I don't care about people, I just forget about it.

I shared an article about whereabouts failures in Kenya a while back and Aliphine Tuliamuk commented that her schedule is more predictable when she's in the U.S., but there's more spontaneity when she's in Kenya. The article mentioned that some athletes in Kenya don't have addresses. Having lived in both places, would you say it's harder to stay on top of keeping drug testers informed of your whereabouts while in Kenya?
Yes, I can see that. It's more difficult here. Like you said, there's no physical address, so you're basically kind of suggesting where you live by either describing the home you're living in or the neighborhood you're living in. On top of that, there's a lot of movement in Kenya. Kenya's the size of Texas and you can just go between Iten and Eldoret without even thinking about it. That can sometimes be problematic for people, because you might go to the village, and that becomes even more difficult, trying to describe where you are. And in the remote areas, you might not have connections, your phone reception is bad.

In the U.S., that is almost a non-factor for me, because I have a specific address. If you're training at a track, you know you'll be at Hayward Field. That's easy, it's clear. But when I'm in Kenya, I don't know. Sometimes it rains and if I go to a dirt track and it's wet and muddy, I might have to go somewhere else. There are a lot of factors. I can see why it can be problematic, but you just have to be diligent. I just have to be on top of it, more than anything. I have weekly reminders to remind me where I'll be for the week. You just have to do it, it's your number one job. As an athlete, if you really care about your integrity, there's no option about it. As much as it's challenging, and I can sympathize and understand that, you have to be on top of it.
What is Emma up to all day?
She keeps us on our toes. She's very active. She runs around and she has a lot of space to do so, so she never sits still as well. The only time she's indoors is for meals and sleep (laughs). Just to eat and sleep and nothing in-between. She's loving it. And we have a lot of people around us, a lot of family and a lot of help. It's just fun, and she's at a really good age right now where she's just exploring a lot of different things. This is a good environment for her for sure.
Is she bilingual?
We have not actually spoken English to her at home. We are just starting now to introduce English at the house. Right now she communicates in Swahili. We wanted her to learn a first language before she speaks English.
Do you ultimately have plans to settle in one country or the other once Emma's in school?
I hope we get to go back and forth, we really like that. Now I feel like we spend more time in Kenya because it is more convenient for our family to do so, but I think when she gets a little older, we'll probably spend more time in the U.S., and that's a huge privilege for us. We would love to be able to go back and forth and just have both worlds for our children and our family; that would be fantastic.