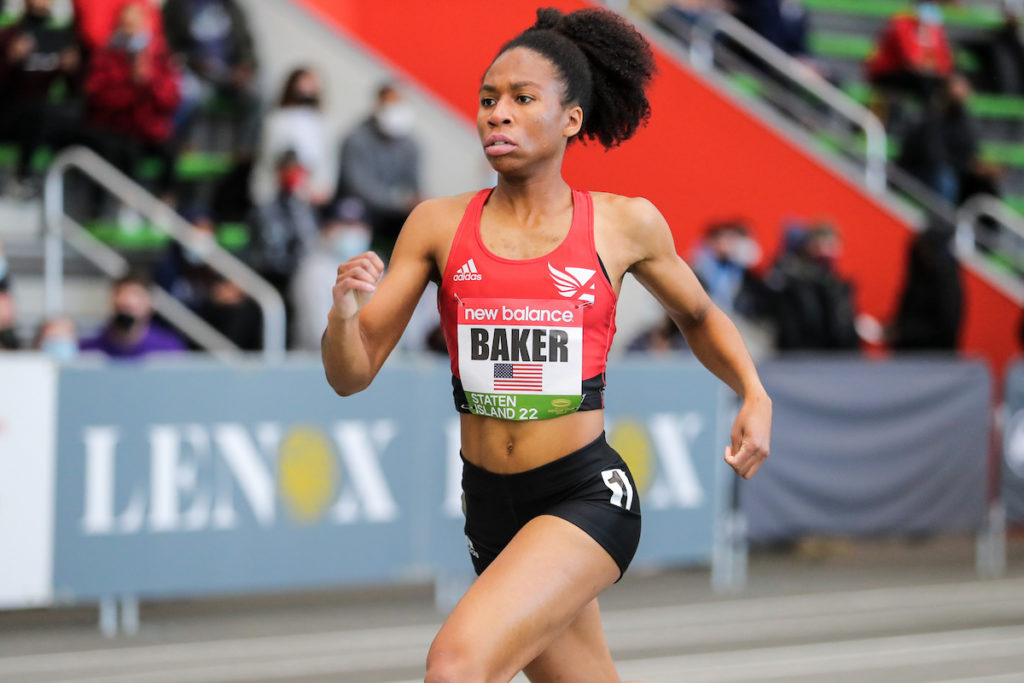 By Alison Wade
Seven months ago, Olivia Baker was strongly considering moving on from professional running. She was coming off a disappointing race at the U.S. Olympic Track & Field Trials, where she didn't advance out of the first round in the 800m. And she had been accepted to the Howard University College of Medicine. Eventually, running won out.
"It was a really, really hard decision, but ultimately, looking at where I am now, I think I made the right one," Baker said.
Baker, 25, joined Atlanta Track Club Elite in September, and the work she has put in is already paying off. She has raced the 800m four times in 2022, and she's run her three fastest times ever indoors. At the New Balance Indoor Grand Prix on February 6, Baker finished second to Natoya Goule in an indoor personal best of 2:00.33, and six days later, at the American Track League meet in Louisville, Kentucky, she used a big kick to win the 800m in 2:00.69.
Since moving to Atlanta, Baker's training under coaches Amy and Andrew Begley has been more 800/1500m focused, compared to the 400/800m training she was previously doing. Baker used to run about 15 to 20 miles per week, and that's gone up by an average of 5 to 10 miles per week. "Learning how to run in a body that has more endurance and finally tapping that potential is really exciting," Baker said. "That has given me confidence, which you can see is growing with each race."
A few weeks after arriving in Atlanta, Baker's coaches had her do a two-mile tempo run on the track, and it was so far outside her comfort zone that they might as well have asked her to run a marathon. But she managed to run around 10:30, which was very fast for her at the time. And she really started building confidence when the team did a mile time trial in November. Previously, Baker hadn't broken 5:00 in the mile, but in the time trial, she ran 4:38.
In Baker's previous training group, Training Ground Elite, based in Texas, she had excellent athletes to train with, like Natasha Hastings and Travia Jones, but Baker was the only 800m runner. Now she trains with sub–2:00 800m runners Allie Wilson and Sadi Henderson and a handful of other middle-distance runners.
"I'm finding a lot more joy in the sport these days, getting to train alongside this middle-distance crew that's really strong," Baker said. "Everyone is here to work, everyone wants to win or run their best, and we all push each other and encourage each other to do that on the track and off the track. There's a high level of accountability."
As part of her arrangement with the Atlanta Track Club, Baker works about 12 hours per week in the organization's marketing department, where she's responsible for leading the ATC's book club, Runners Who Read. Prior to her move to Atlanta, Baker hosted a book club on Instagram with long and triple jumper Keturah Orji. Baker works in the office two days per week, which conveniently coincides with her cross training days.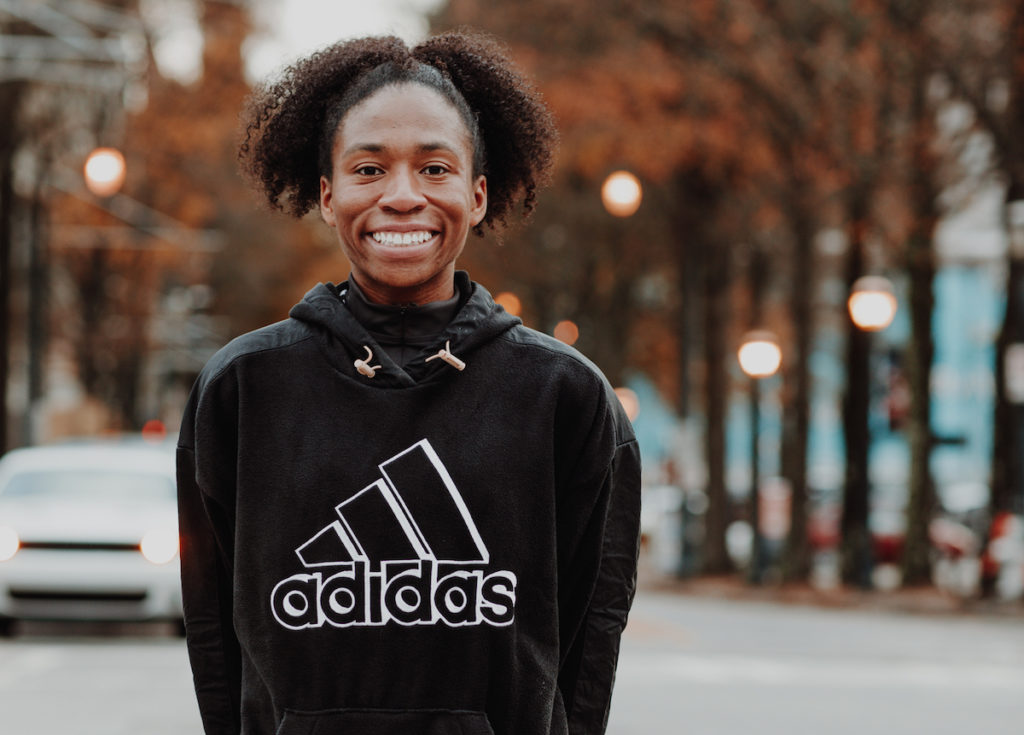 Baker's one off race of the season came on January 29 at the Millrose Games, where she ran 2:06.11. She attributes her performance to a lack of balance in her life around that time. "In the days leading up to the meet, I was doing a lot of work, not getting a lot of rest and it showed on the track, unfortunately," Baker said. "I'm still working on it. I'm still finding that sweet spot between work and volunteering in the community and running and all the other things in my life, but I think that I am doing a better job now."
Competing at the New York Armory in upper Manhattan always feels like a homecoming to Baker, who grew up in nearby South Orange, New Jersey, and has been racing there since she was a teenager. Baker specialized in the 400m in high school and graduated never having lost a 400m race to anyone from New Jersey. She won a silver medal in the 400m at the 2013 World Youth Championships and a bronze medal in the 400m at the 2014 World Junior Championships. But her future as an 800m runner was also apparent, and she famously ran a 2:02.55 800m split to anchor Columbia High School to a Penn Relays 4x800m relay win her senior year.
At Stanford, Baker built a mile-long resume on the track that included seven first-team All-America honors. Her highest finish at an NCAA championship was second place in the 800m at the 2016 NCAA Outdoor Track & Field Championships. Though she would have liked to win an NCAA title, Baker's collegiate career was a success. She appreciated that her coaches, Gabe Sanders and Chris Miltenberg, left room for growth and improvement down the road, knowing she had a future in the sport.
Baker felt the weight of expectation at times, though. In 2020, she wrote a Dear Younger Me piece for MileSplit about the anxiety she often felt. Over time, she has learned to measure her success differently. "I won't let my career be defined by the wins and losses or the expectations of what people think I should or shouldn't have accomplished by now," Baker said. "Rather, it will be defined by the process and the everyday work that's put in towards achieving my goals. Of course we all want the results. I want to win, I want to be the best in the world, but I no longer will let the results alone be the thing that defines my career."
When Baker graduated, in 2018, she had a lot of opportunities to run professionally, but most of the companies and teams that were recruiting her wanted her to choose between the 400m and the 800m. Baker turned them down, because she had her heart set on not only racing the 800m, but also being someone who could run a 4x400m leg at a World Championships or similar level. Baker chose to train with Training Ground Elite, where she was coached by Darryl Woodson, because Woodson believed in her potential to do both. Despite living in Texas, Baker was supported by the Garden State Track Club, which provided her with all the shoes she needed, a uniform, and gave her a small stipend to cover living expenses.
With Baker's move to Atlanta Track Club Elite, she accepts that she's an 800m specialist now. As for medical school, Baker could only defer her acceptance for up to one year, so she ultimately declined her deferral, knowing that she wants to keep running through the next Olympic cycle and possibly beyond. Baker still plans to become a doctor someday, but in order to attend medical school, she will have to start over with the application process.
In the meantime, she'll focus on figuring out how far she can go in the sport. Baker will next race at the 2022 USATF Indoor Track & Field Championships February 26–27 in Spokane, Washington, where she hopes to finish in the top two and qualify to represent the U.S. at the World Championships in March.
"I'm feeling great. I feel ready, I feel confident, and I think this is the best shot I've had in my professional career at making a team," Baker said. "I feel like I've got a lot of momentum going my way right now and I'm ready to take a real swing at this world team."
---
Update: On February 27, Baker finished second in the 800m at the USATF Indoor Track & Field Championships and qualified for her first senior World Championship team. She'll represent the U.S. in Belgrade, Serbia, in March.