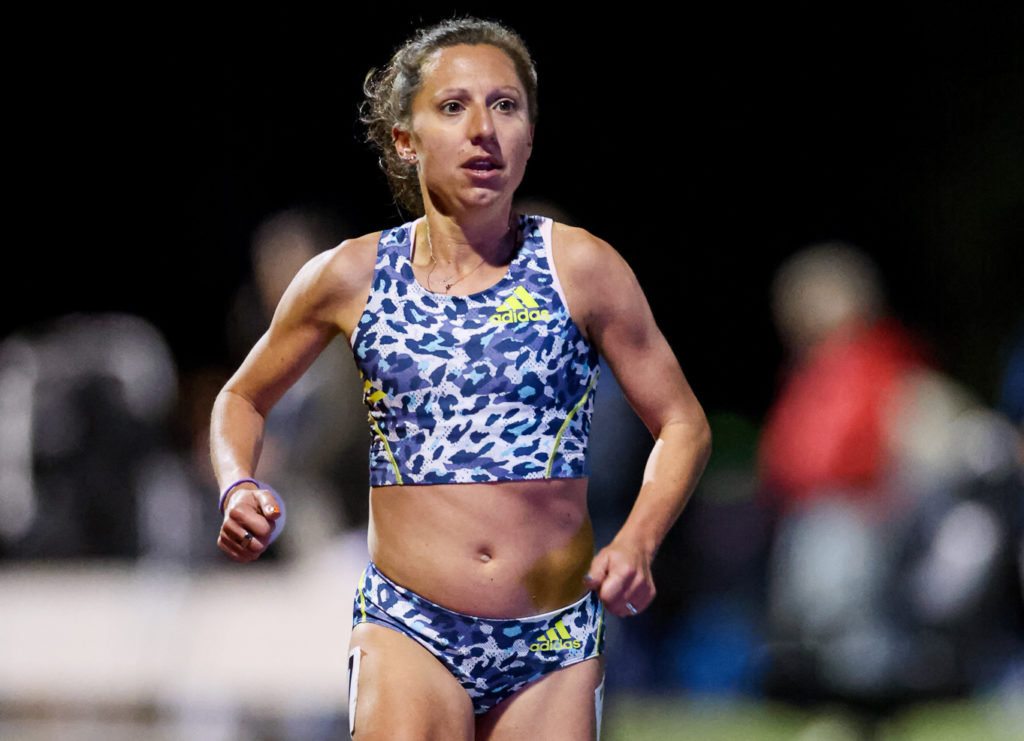 By Alison Wade
When Emily Lipari ran 31:24.82 for 10,000m at The TEN last month, to her, it was more than just a race result. After a tumultuous year that included some of her lowest lows in the sport, her performance offered hope. It was her first race back after she tore her meniscus, underwent surgery, and considered giving up professional running. And it was the first clear indication that her best running could still be ahead of her.
Lipari, 29, has spent most of her professional career focusing on the mile, but she chose the 10,000m for her return because she had never raced one before and the stakes were low. She surpassed all expectations, despite a lap counting mishap, and finished 0.18 seconds under the World Championships qualifying standard. (The time makes her eligible to compete at the World Championships if she finishes in the top three at the U.S. trials in May.)
"When I actually got this done after such a rollercoaster of a year, I definitely welled up a little bit when I got home and really processed what happened," Lipari said. "There haven't been many points in my career where I've been like, 'Wow, I'm really proud of [myself].' But this time I was finally able to say out loud, 'Wow, Emily, I'm really proud of you.' It actually allowed me to believe again that I can get back to being even better than I was, which is really just an incredible feeling."
A sudden injury
Lipari missed the 2016 U.S. Olympic Track & Field Trials because she didn't run fast enough to qualify. But she was on a different level by 2021, and she entered the year in a good position, having already achieved the Olympic qualifying time in the 5,000m. She was looking forward to competing in her first Olympic Trials.
Eight weeks out from the Trials, at the end of April, Lipari was doing a routine threshold workout with her teammates in Sedona, Arizona, when she heard a pop in her right knee. She finished the rep but stopped the workout. An MRI revealed a parrot beak medial meniscus tear. For a while, Lipari thought she might be able to get to the Trials with aggressive rehabbing, cross training, and a little running here and there. But by the beginning of June, it became clear she wasn't going to make it to the starting line.

Lipari was devastated. "All I wanted was the chance to either succeed or fail," she said. "But I didn't even get that chance." She took two months off from running and cross training and focused on rehab. "I was just so mentally tapped and I needed to be away from it all," she said. "I deleted my Instagram because it was just really hard to [look at]. I love good things happening to great people, but when you're struggling, social media [can be] a hard place to be. It did really help me heal mentally and it made me be so present with my life and appreciate the things I had."
After two months, it was apparent that Lipari's injury wasn't going to heal on its own, so she underwent surgery on July 28, the day before the Olympic track & field events began. During this time, Lipari contemplated her future in the sport. She began researching graduate schools and looking at job listings. "I was basically looking for my escape route," she said. She told her husband, Tim Nangeroni, that she was done with professional running. "My heart just felt so broken from it and I didn't know if I could dive back into it and put myself back in there," she said.
Even with that uncertainty, Lipari worked hard in rehab, because she wanted to continue to be an active person. And after giving herself some space from the sport, she realized her heart was still in it. And with time, she began to see progress. "I started to get really excited and started to be able to dream a little bit again," she said. By late October, Lipari was able to run for 30–40 minutes most days. By Thanksgiving she added fartleks, and in December she was able to start some speedwork. (And by January, Lipari was back on Instagram.)
Lipari's fitness returned faster than she expected it to. "When I started running again I just felt so out of shape and so exhausted," she said. "But after about five weeks of consistency all of a sudden, one day, it just came back and running felt easy again. It was like, with the snap of a finger, I just felt like I knew what I was doing out there again."
Lipari is now back to what she calls her "new normal" in training. She used to run 80–85 miles per week, running twice a day four or five times per week. Now she has cut that down to 70–75 miles. She runs once a day and does her second session in the pool or on the bike.
When she first got injured, Lipari racked her brain to figure out why this had happened. "I was just so hung up on 'why me?'" she said. "Waiting around for an answer you're never going to know is really exhausting. [I learned to] focus on what I could do presently. And if things were going really well in PT, it's okay to pat yourself on the back and tell yourself you're doing a good job. I've learned to be kind to myself."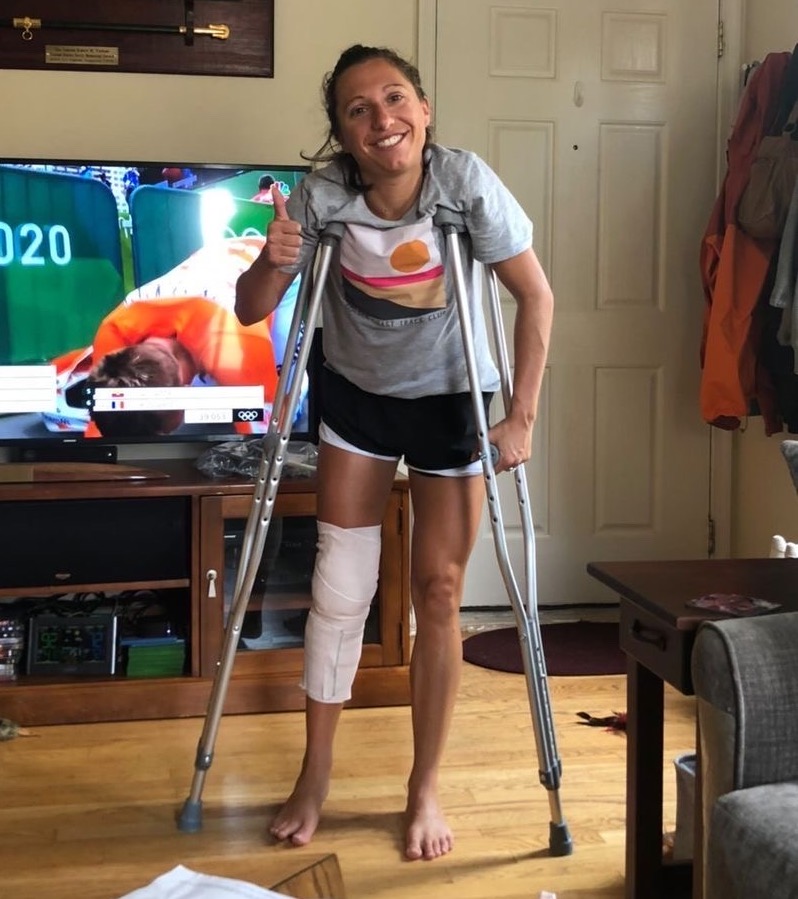 Losing count
The day before her 10,000m race, Lipari got a surge of confidence when her Golden Coast Track Club teammates, Emily Durgin and Sarah Pagano, finished second and fourth, respectively, at the USATF 15K Championships. "I was like, 'These are the people I have been training with; maybe I can do something special in this 10K,'" Lipari said.
A couple of miles into the race, she found herself getting in a good rhythm following a line of runners. And with a mile to go, she stopped looking at the lap counter, started counting down in her head. She focused on chasing down the women in front of her. She kicked hard, caught Andrea Seccafien and Natosha Rogers, the eventual third- and fourth-place finishers, crossed the finish line, threw her arms in the air, and looked at the clock. It was just over 30 minutes. "I very quickly realized that I did not set the American record and I still had a lap to go," she said.
Giving your all in a race, only to learn the race isn't over, is rough, but Lipari's mind quickly turned to the World Championships standard of 31:25. After standing still for a couple of seconds before she realized her error, Lipari jumped back in the race. "The real final lap, I was going back and forth with the pacing lights (which were set to 31:25)," Lipari said. "I was really fighting that mental battle thinking, 'You've got one more lap in your legs. You're so close. You're not going to come 24 laps to miss it by doing something dumb.'"
It was a dramatic battle, but Lipari narrowly beat the pacing lights to the finish line and secured her World Championships standard. After spending most of the race running around 75 seconds per lap, she ran her penultimate lap in 69.24 seconds, and her final lap in 77.71, which includes a couple seconds of standing around—a strong recovery considering the circumstances.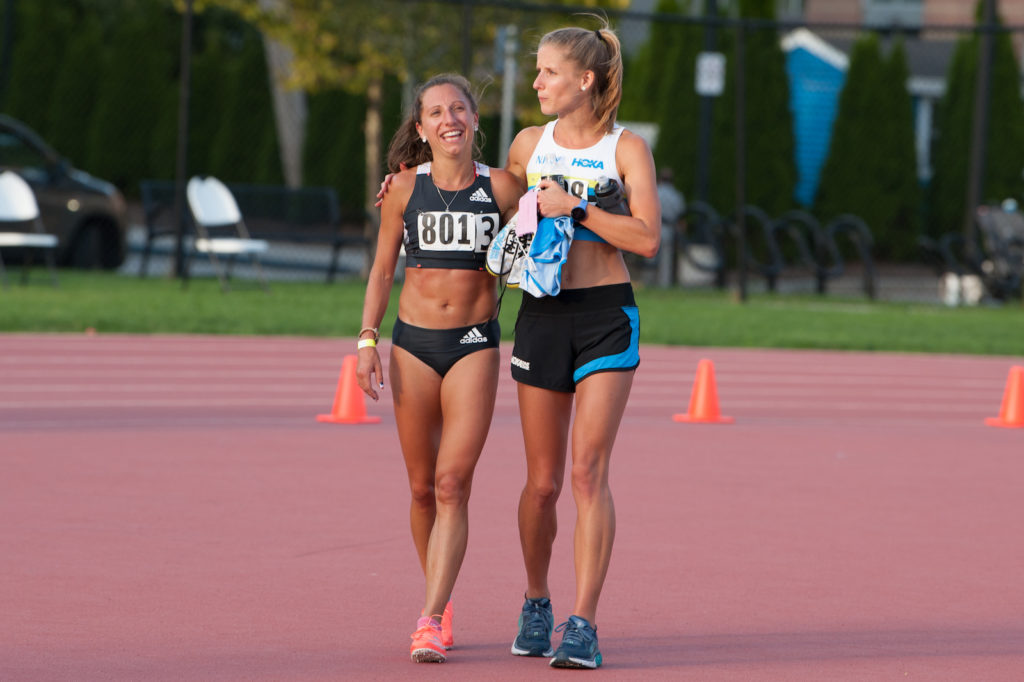 Looking ahead
Lipari plans to focus on the 5,000m and 10,000m this year, but she's not letting the mile go completely. In April, she'll run two road miles: The B.A.A. Invitational Mile in Boston on April 16 and the USATF 1 Mile Road Championships in Des Moines, Iowa—an event she has won twice—on April 26. Lipari plans to run a 5,000m in early May, and then compete at the USATF 10,000m Championships in Eugene, Oregon, on May 27.
Lipari has been coached by Terrence Mahon since she graduated from college. She started working with him while running for the B.A.A. from 2014 to 2017, then she stuck with him when he left to start the San Diego-based Golden Coast Track Club. Since leaving the B.A.A. at the end of 2017, Lipari has been based in a variety of places as she has moved where her husband's career in the Navy has taken him. Lipari signed a sponsorship contract with Adidas in 2018, and she spends blocks of time throughout the year training with her teammates in San Diego or at altitude camps.
Because they've found that Lipari's best races tend to come when she's coming out of a training camp, she joins her team when she has a key race coming up. Lipari and Nangeroni spent the last two-plus years living in Washington, D.C., but at the start of 2021, they moved to Groton, Connecticut. And in July, they'll make their biggest move yet, to Hawaii, because Nangeroni, who works as a nuclear engineer on a submarine, will be based in Pearl Harbor. Lipari will be in the middle of her track season, so she probably won't make the move until September.
Nangeroni is going to be away so much in the near future, including a 10-month stretch next year, that Lipari thinks she'll probably get a small condo in San Diego and stay there while he is deployed. It's tough for Lipari and Nangeroni to stay in touch while he's away—they date their emails because sometimes it will take them three weeks to arrive. "Before he goes on his deployments, we write a whole slew of letters to each other and we'll open them on certain days," Lipari said. "We come up with creative ways to stay connected, because it's obviously pretty challenging at times, but we make it work."
Wherever Lipari is living, she has been able to recruit training partners, usually sub-elite men, to help her through her workouts. "That's the beautiful thing about the running community," she said. "Each place I've gone, I've really been able to establish a community in such a short time. I'm so grateful to those people because that's a big thing that's helped me stay at this level in the sport."
---
To have content like this delivered to your inbox each Monday morning, subscribe to the Fast Women newsletter here.