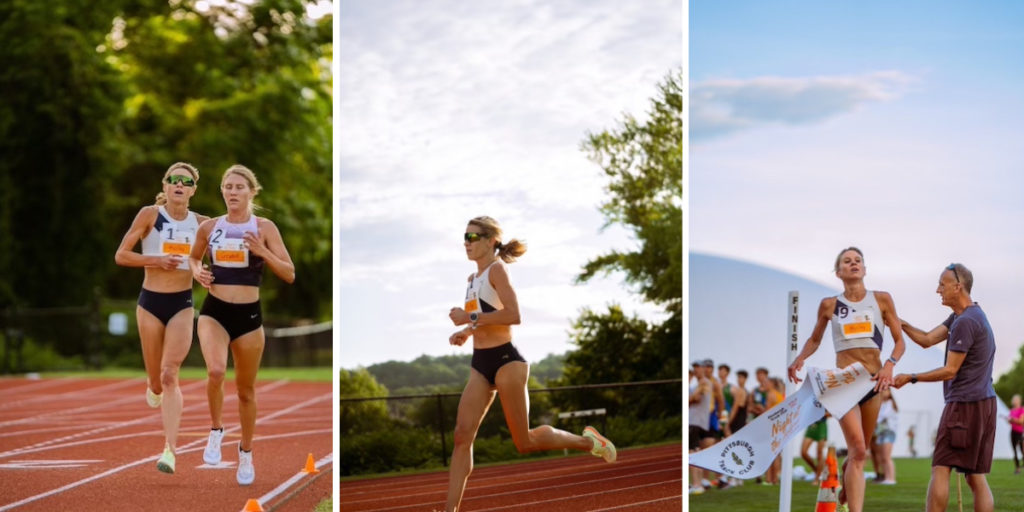 By Alison Wade
The Pittsburgh Track Club's Night at the Island track meet on June 4 offered a one-of-a-kind prize money structure. Any U.S. citizen who could break the Pennsylvania soil records in the mile or 5,000m, provided that they had never run faster than the record before, would earn a $20,000 bonus.

This turned out to be the perfect opportunity for former triathlete Lauren Hurley, 34, who is very fast but has very little experience racing on the track, and her training partner Molly Grabill, 29, who ran her 5,000m personal best of 15:22.97 earlier this season. Grabill's time was fast, but not as fast as the Pennsylvania soil record of 15:17.11, which kept her eligible for the bonus.
Hurley and Grabill, who are both coached by Ric Rojas, made a deal ahead of time, knowing that without a pacer in the race, teamwork was going to greatly increase their chances of breaking the record. They took turns leading each 800m for the first 3200m, and agreed that if one of them earned the bonus, they would split it.

Hurley turned out to have more in her legs, and she won her first-ever track 5,000m in 15:16.33, while Grabill finished second in 15:56.35. Though Hurley cut it pretty close, breaking the record by 0.78 seconds, she remained confident. "I wasn't nervous," Hurley wrote in a text to Fast Women. "We went out a little slower than I usually like to race but this was a new approach for me. This is just my fourth race ever on the track…so I am still learning how to race tactically. I knew I probably had it though the last 400m, and I tried to relax and think of my son Wilder and just smile."

Hurley was feeling so good that she also decided to hop in the mile about 20 minutes later. She won that one too, running 4:45.43 in her first-ever mile race. Hurley earned $1,000 for each of her wins, for a total of $22,000. Given that most U.S. track races have little to no prize money, it was a big payday, even after sharing $10,000 of it with Grabill.
Prior to this meet, Hurley had raced only once this year. She ran 31:49.46, a 10,000m personal best, in winning the "B" heat at Sound Running's TEN in March, but shortly after, she injured her calf. As a former triathlete, cross training is no problem for Hurley, but she had to take three weeks off from running and was disappointed to miss the USATF 10,000m championships. Grabill, on the other hand, was coming off a 10th-place finish at the 10,000m champs just over a week earlier.
Hurley's time was just off the 15:13.00 qualifying standard for the upcoming USATF Outdoor Championships and will almost certainly get her into the meet, so she will consult with Rojas about whether to run. She is also starting to think about trying the marathon.
The son she thought about on the final lap of her race, Wilder, will turn two soon, and Hurley has her hands full as a single mother and business owner. "It's really tough to toggle running, work, a kiddo, and try to compete on the elite stage," Hurley said. "But I'm trying my best and seeing what I can do!"
---
To have content like this delivered to your inbox each Monday morning, subscribe to the Fast Women newsletter here.