By Alison Wade
In the past five weeks, Eleanor Fulton has run personal bests at four distances: 1500m (4:03.03), mile (4:23.65), 800m (2:01.27) and 5,000m (15:19.19). While most of the milers Fulton competes against are full-time professional runners, Fulton works full time for a software company and fits her training in around that.
The times she is running now are much faster than she ever could have imagined when she chose to pursue professional running. After a frustrating string of setbacks during college, Fulton finished her eligibility at the University of Washington in 2016, with a 4:19 1500m personal best. Agents and sponsors weren't knocking down her door, but she decided to continue running post-collegiately anyway. And over time, she has steadily developed into one of the U.S.'s best middle-distance runners, despite being unsponsored.
Track wins out
Fulton, 29, who grew up in Lone Tree, Colorado, got an earlier start in the sport than many of her professional running peers, beginning track around age seven. She tried the standing long jump first and also did the high jump, but it didn't take her long to figure out that she was a better distance runner. Fulton also played soccer and was pretty serious about lacrosse through middle school, but when she got to high school and had to choose one sport, track won out.
She appreciated that with running, she could see the results of her hard work. "What you put into distance running at a young age, you end up getting out of it," she said. "There's a pretty clear correlation of effort and result there. I was also super Type A, so I think from a young age, I was like, 'Hell yeah, I'll run every day.'"
Fulton amassed a mile-long résumé in high school, representing the U.S. at the 2009 World Youth and 2010 World Junior Championships in the steeplechase. She became the first girl in Colorado history to win four consecutive state titles in the 1600m, had a high finish of third at Nike Cross Nationals as a sophomore, and was a Foot Locker All-American in cross country as a senior. By the time she graduated from Highlands Ranch High School, she was one of the fastest high school milers in the country, with a best of 4:42.90.
But shortly after Fulton arrived at Washington, her struggles began. She had a string of roughly five stress fractures—there were enough of them that she lost count—and she also began passing out in the middle of cross-country races, only making it to the finish line with the aid of a golf cart. The stress fractures led people around her to suspect she was dealing with the female athlete triad, but that wasn't it. And her EKG looked normal. Finally a teammate suggested that she try eating gluten free, and out of desperation she did. Slowly, her problems disappeared. She suspects now that celiac disease was preventing her from absorbing the nutrients she needed to stay healthy. She has stuck with a gluten free diet and hasn't had a bone injury in years.
Through years of setbacks, Fulton never considered giving up the sport. "I was committed to figuring it out," she said. "You can call it perseverance, you can call it addiction. I have nothing else that makes me feel as passionate as track does."
Fulton graduated from Washington as a four-time All American. Her highest individual finish at an NCAA championship was eighth in the indoor mile in 2016. In five years of collegiate running, she shaved five seconds off her mile personal best, running 4:37.26 her final year. Fulton never qualified for the NCAA championships outdoors.
But given all of the setbacks she encountered during college, she knew there was more there. Fulton signed a small contract with Skechers out of college and moved to Portland, Oregon, to train. "There weren't a ton of opportunities for me, so I was excited to have anything that paid," she said.
When she moved to Portland, she learned that her contract would be smaller than she had previously been promised, so she picked up a part-time job to help pay the bills. Despite the fact that Fulton improved dramatically, shaving nine seconds off her college 1500m time in one year, the opportunity lasted for only two years.
Having the contract gave her the validation she needed at the time to call herself a professional runner, but Fulton realized in those two years that she didn't need a contract to continue running. Over time and out of necessity, she's increased the number of hours she works, gradually moving to full-time."The whole time I've been out of college, I've just been just trying to find a way to make it work," she said.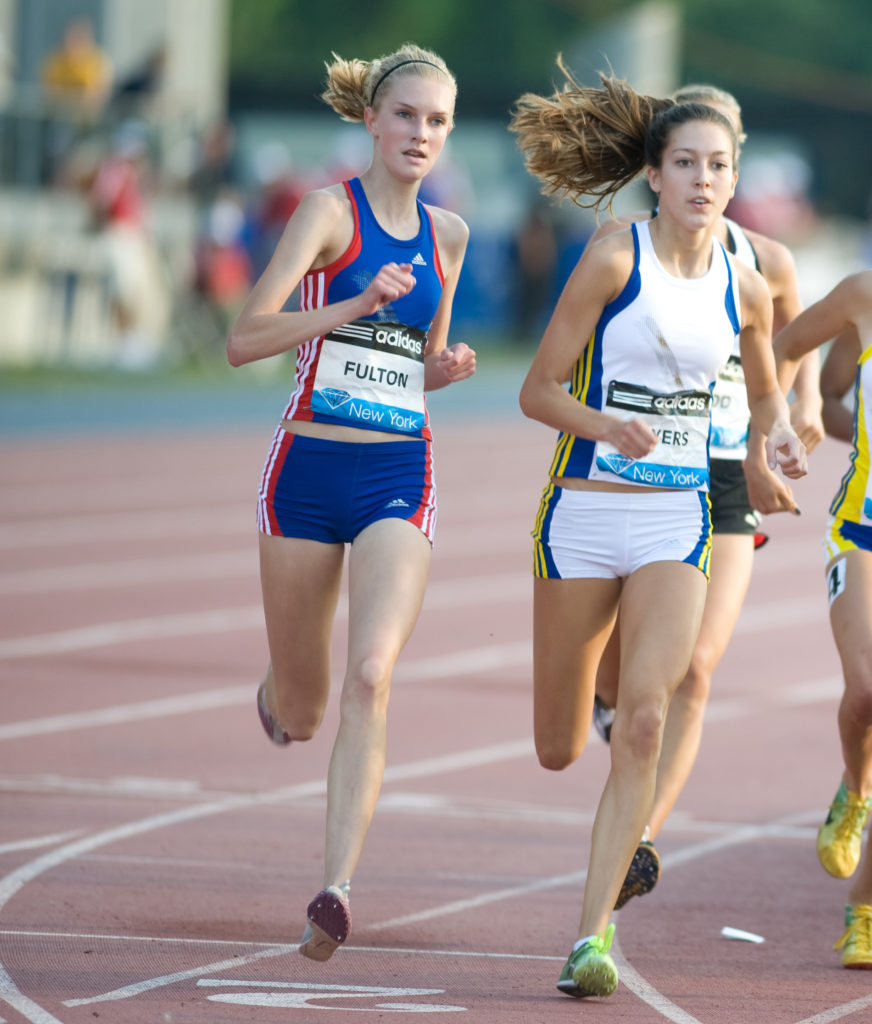 Finding stability in Portland
In 2019, Fulton began working with coach Dena Evans, whom she had met while representing the U.S. in the mixed relay at the 2017 World Cross Country Championships. At the time, Fulton considered expanding her search for the right training setup and leaving Portland, but doing so would have meant leaving her then-boyfriend, now-husband, Scott Olberding, and their dog, Lettie, behind. "I felt like the stability there wasn't something I wanted to leave," she said. "I was kind of like, 'Oh man, this is one thing that is working right now.' I do understand that if I was more willing to leave this setup, I might have an easier time finding a contract."
Olberding, a sub-elite marathoner, has helped Fulton out by doing her workouts with her during much of the track season, before going back to fall marathon training. She also gets a little training help from Lettie, who does some of her recovery runs with her—and now has too much energy when she doesn't get out for a few miles. "She's a beast now because she's super fast and she's super fit," Fulton said. "It's great on runs, but then on days when we don't run we're like, 'What have we done?'"
Fulton's relationship with Evans is also working well. "I love working with Dena, and I think the longer that we work together, the better things get," she said. "I think she really understands me as an athlete, and I'm seeing a lot of progress there." Evans lives in California, so the two work together remotely, something Fulton was concerned about first. "Once I kind of was able to just trust the process and we were seeing results, it was like, 'Okay, this is fine.'"
Fulton works as a marketing manager for a software developer, but during the pandemic, her job went permanently remote, which has made fitting in one or two runs per day easier. The job provides financial stability and health insurance, but it's not always easy stretching her paid time off from work to fit her racing schedule. She tends to race on the West Coast when she can, to limit her travel time.
Fulton says if the right sponsorship situation came along, she would be thrilled, but Evans helps her refocus from time to time, reminding her, "The goal isn't sponsored; the goal is good."
The money in running doesn't always go to the fastest athletes. With the rise of social media, another route to sponsorship is having a large following. Fulton has an entertaining Instagram account, but only about 3,000 followers. Every once in a while, she'll ramp up her efforts on social media. "I go through phases of caring and not caring or being willing to do it or not willing to do it," she said. "And I feel like every time I'm like, 'Okay, I'm really going to try,' I just don't really see results." It doesn't help that she's a private person, and she doesn't want to come across as phony. "Every time I really think about it, I just think about my actual friends that follow me and I'm like, 'God, this is so annoying. I don't want them to see this.'"
Times versus tactics
Fulton's worst race of the season came at an inopportune time, as she made a tactical error trying to get out from the rail in the last 150m of her 1500m prelim at the USATF Outdoor Championships. She narrowly missed advancing to the final.
She points out it's one thing to run fast times; it's another to master the tactics that lead to success in championship races. The way the two or three rounds of the 1500 go at a championship, she points out, are vastly different from any regular-season 1500.
Three days later, Fulton finished 10th in the 5,000m. It was her highest finish ever at USAs outdoors, but not representative of what she could do.
A couple days later, Fulton learned of an opportunity to pace Jessica Hull in her attempt to break the Australian record in the mile. Six days after her 5,000m race, Fulton followed the first pacer, newly minted USATF 1500m champion Sinclaire Johnson, through 1,000m before taking over the pace for the next 200m. Hull went on to break the record, running 4:19.89, and Fulton stuck close to Hull for the next 300m to hit a 1500m personal best (4:03.03) before jogging to the finish line and still managing to run a 4:31 mile. "That was kind of a fun way to get me out of my funk post-USAs," Fulton said.
Though Hull's team, the Nike-sponsored Union Athletics Club, is also based in Portland, Fulton hadn't interacted with the team much before. "They're very inclusive and were super nice to me," she said. "Everyone was invited to join their post-race workout. I was impressed with how welcoming they are for how good they are."
And on Friday night, Fulton ran an aggressive race at Sir Walter Miler in Raleigh, North Carolina, and finished second to Nikki Hiltz, 4:21.89 to 4:23.65. Fulton took 5.81 seconds off her personal best and became the 14th-fastest American miler of all time outdoors. Two days later, she won the Brooklyn Mile, a road mile, in a course record 4:28.
She recently learned that her 5,000m finish at USAs earned her the opportunity to represent the U.S. at the NACAC Championships in the Bahamas later this month. It will be her first time representing the U.S. internationally in an individual event at the senior level. "Any chance I get to run the USA uniform, I will be there," she said.
And she's hoping this is just the start. During the World Championships, Fulton drove down to Eugene and watched some of the athletes, whom she races regularly, compete, and it reaffirmed her desire to be out there with them some day. "I would like to be able to compete at a world level," she said. "I'll be okay if that doesn't come true, but that for me is the ultimate goal. And I would have never thought that that was possible, but I just keep thinking, 'Okay, just one more jump. Can I make one more little jump in the 1500m?'"