(Content warning: This story discusses eating disorders. If you are struggling with an eating disorder and are in need of support, please call the National Eating Disorders Association Helpline at 1–800–931–2237. For a 24-hour crisis line, text "NEDA" to 741741.)
By Alison Wade
Until this year, the idea of qualifying for the U.S. Olympic Marathon Trials was too far-fetched for Maria Langholz to even consider. Last December, when USA Track & Field lowered the qualifying time from 2:45:00 in 2020 to 2:37:00 in 2024, she wasn't concerned, because both times seemed too far out there for someone like her. She was a 2:58 marathoner. Running 2:37? Forget it.
But at April's Boston Marathon, Langholz, 30, had a remarkable breakthrough. She knocked 15 minutes off of her personal best, and ran 2:43:25 (2:43:55 gun time) despite starting in the race's second wave. Because she had to pass so many people along the way, she knew she could run faster. And two months later, she did, taking another five minutes off her time and running 2:38:22 at Grandma's Marathon.
On December 4, at the California International Marathon, Langholz hopes to accomplish the previously unimaginable and qualify for the 2024 Olympic Trials, which will be held February 3, 2024 in Orlando, Florida. At the rate she's been improving, she figures, what's 82 more seconds?
Langholz can't pinpoint any one thing that has gone into her dramatic improvement. Encouragement from those around her, staying healthy, strength training, consistency in training, and listening to her body all factored in. And while no one could follow the exact path that Langholz has, her story shows that big jumps are possible, and that runners are often capable of much more than they think.
A rocky start
As many great runners do, Langholz started out as a soccer player. Though she was the goalkeeper, she did all of the running workouts with the team. Sometimes she would outrun the team's midfielders, and her coach would take that as a sign that they weren't working hard enough.
Langholz began running her senior year of high school in Ashland, Wisconsin, but the relationship didn't start off in a healthy manner. "It's complicated for me that the way that I got into running was as a way to lose weight," she told Fast Women. "I thought that I would be more attractive if I lost weight, and I would get more attention from people if I lost weight, and running with my method to do that."
She started running for an hour a day, in addition to attending soccer practices. Her weight loss was so dramatic that when she showed up for preseason college soccer practice at Macalester College, she didn't have the strength or energy to play well. Instead of taking that as a warning sign, she quit the sport and started running on her own. During college, Langholz ran a few half marathons, hitting a personal best of 1:29.
Langholz says a critical part of her eating disorder recovery was taking an anti-anxiety medication, which has helped her stop obsessing over food and exercise. She also credits therapy and the supportive partners she's had over the years. But as she began to recover from her eating disorder and put on weight, she stopped racing, afraid that if she couldn't hit the same times, it would spiral her into unhealthy habits again.
So for years, she ran, but she didn't race. When she finally did decide to race again, she decided to try something different, so she wouldn't have anything to compare her performance to. She went with the marathon, and ran a 3:23:25 at the 2019 Banff Marathon.
"It's been very helpful mental-health-wise for me that I've had, by far, my best performances in running when I've weighed significantly more," Langholz said. At five feet, 10 inches, Langholz often towers over her competition. "It's sometimes hard, especially when lining up for a race, to see a lot of women around me who are so much smaller. But it's reassuring and affirming to me to then perform very well and be like, 'I'm strong and I'm fast and this is the body I have and it's doing well.'"
A turning point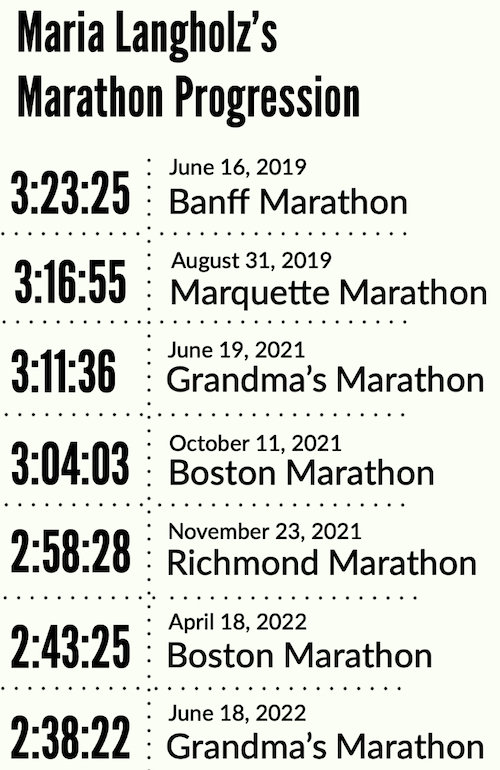 Langholz has run seven marathons since 2019, getting progressively faster at each one. At first her progression looked relatively typical, as she went from 3:23 to 3:16 to 3:11 to 3:04 to 2:58. But her 2:43 and 2:38 this year have vaulted her to a new level.

Langholz says that one of the biggest changes she made in the last year was doing strength classes at her gym two or three times per week. While she's mostly a solo runner, she enjoys doing her strength training with people, because of the great community at her gym in Washington, D.C. Prior to that, she wasn't doing any strength work, and she feels the benefits at the end of her races, when she's able to push through and hang onto a pace.
She got another boost in March when she was chosen to be a part of a record-setting On-sponsored team for the Speed Project, a 340-mile relay race from Los Angeles to Las Vegas. They were looking for women who had broken 3:00 in the marathon, but the team lucked out, because Langholz was a 2:58 marathoner who was ready to run much faster. She averaged just over 6:00 pace for the 40 miles or so that she did over the course of the 29-hour race.
Her teammates told her she was capable of running a much faster marathon and planted the seed that she might be fast enough to go after an Olympic Trials qualifying time. At first she laughed it off, but over time, the idea began to sink in. "I think it has helped just having people along the way who are like, 'Lady, if you work at this, you're going to be able to do it. You are fast, you are strong, you're consistent.' Having those people has been good," Langholz said.
She was surprised by how well her Speed Project experience went in general. "It's kind of wild that our team got along extremely well," she said. "There are very few people that I think I could be in a van with while sleep deprived in the desert and not want to get in a fight with them. But there was no arguing or drama, which shocked me, given that we didn't know each other."
And one of her Speed Project teammates, Colton Gale, whom she didn't know prior to the relay, even joined her when she ran her 2:38:22 in June at Grandma's. "He made me laugh along the way, and I think that made that time possible," she said.
Hiring a coach
Langholz had been self-coached throughout her running career, but in May, she decided to hire Calum Neff to coach her, about a month before she ran Grandma's. (Neff might be best known, at least in the U.S., for pacing Keira D'Amato to the American marathon record in January.) The change was close enough to the race that it didn't really impact her Grandma's buildup, but she's looking forward to seeing how she runs at CIM, after working with him for an entire training block.

She used to run more by feel—if she felt good, she'd go faster or farther—and now she's doing more structured workouts, like interval work and tempo runs, neither of which she was doing before. She's also doing more long runs. In all of her previous marathon buildups, she has only done one training run of 20 miles or longer. This time she's doing multiples. Her mileage has remained the same, at about 70–80 miles per week right now.
In her initial conversations with Neff, she told him that was roughly the mileage that she knew worked for her. "I know my body, and that's one of the reasons that I've been able to get fast and not hurt myself," Langholz said. "I'm pretty good at responding to how my body is feeling, and making sure I'm doing enough yoga and going to PT, both proactively and for anything that's feeling weird. And not trying to push through things that don't feel good in terms of injuries."
Langholz finds that running on her own is great for her mental health. "It's a very good way to slow down my brain and process things that are going on and I've always come back feeling really refreshed and refocused," she said. She does a lot of her training in Rock Creek Park, but when it comes to speedwork, she prefers the treadmill, partially because she enjoys not having to think about pacing.
Langholz fits her training into a full life. She works as the communications director for Demand Progress, a D.C.-based advocacy group. She was also working to get Keith Ellison reelected as attorney general in Minnesota (where she lived until she was 10, and then again during and after college). Now that she has successfully done so, she'll have a little less on her plate for the time being.
During college, instead of participating in organized sports, Langholz devoted some of her free time to her activism. "I was a young person who got frustrated with how slowly things moved in institutions. We were talking about climate change and the school wanted to talk to us about changing out lightbulbs, and I knew we needed bigger change than that," she said. "Over time, I've definitely moved toward the electing candidates who support policies I want and advocating for the policies that I want, but I definitely had an activist phase and multiple civil disobedience arrests in my early twenties."
Langholz recently got engaged and plans to get married in May 2024. In the meantime, she's planning to run more marathons. After CIM, she's hoping to run Grandma's again next year, as well as the Berlin Marathon. And, in February 2024, hopefully the U.S. Olympic Marathon Trials.
When she thinks about such goals, she occasionally has to pinch herself. Her mind is still catching up to what her legs and lungs can now do. "I honestly still look at workouts that Cal writes and I'm like, 'I don't know who's doing that, it looks awful,'" she said. "It truly has not processed in my head that these are times I can run. Especially when I get down to doing workouts that are under six-minute miles—that is nothing that I ever imagined myself doing."