By Alison Wade
When Lizzie Bird began law school at the University of Colorado in August 2021, she knew that it might not be compatible with the lifestyle of a professional runner. But she had already put school off for two years as she pursued her Olympic dream, and she didn't want to wait any longer. Bird, 28, represented Great Britain at the Olympic Games in 2021, where she finished ninth in the steeplechase and broke her own British record.
She accepted that entering law school might slow her progress with running, but it turned out that the 2022 track season was her best yet. She lowered the British steeplechase record to 9:07.87, earned a silver medal in the steeplechase at the Commonwealth Games, and won bronze at the European Championships. Then she finished off her season with a 4:22 road mile at the Fifth Avenue Mile.
A global upbringing
Bird was born in the Philippines, and when she was about a year old, her family moved to Pakistan. Her father was a geologist working in oil and gas, so his work dictated where the family went. They also spent stretches of time in Dubai. By the time she was about 12, her family had settled back in the UK.
It was in Dubai that Bird discovered her affinity for running. Her parents were runners, and she participated in the Dubai Road Runners' weekly predictor runs. She still has a couple of mugs she won for being the person who most accurately predicted her finishing time.
When her family moved back to the UK, a PE teacher suggested that she join a running local club. Her training progressed gradually from there. By the time she was in high school, Bird was good enough to make the podium in the 1500m at the English Schools' Athletics Championships and she started learning more about the US collegiate system.
She considered a handful of schools and chose Princeton, where she initially made steady progress and became a three-time Ivy League individual champion, winning conference titles in cross country as a junior (2015) and the steeplechase as a sophomore and senior (2015, 2017). But there were also frustrations, like a stress reaction in her right femur, the leg she lands on in the steeplechase, and other injuries as she returned to running too quickly. "I definitely finished wanting more," Bird said. "I had just enough success to still be enjoying it but enough frustrations to want to continue."
She graduated from Princeton in 2017 and moved on to the University of San Francisco where she earned a master's in international studies while finishing out her collegiate eligibility. At USF, the training was much more intense than anything she had done before. "I was training with a bunch of 10K runners who would drop me in every single session," Bird said.
In the spring of 2018, she got another stress reaction in her right femur. Discouraged, she took the summer completely off from training and focused on other interests. She thought her days of serious running might be over. But she had one season of cross country eligibility remaining.
Building momentum
Bird went into her last season of collegiate competition undertrained. A new coach, Pat McCurry, had taken over the USF program and, having lost some top talent, the team needed her. She ran two or three times per week and then hopped in races on the weekends. "It felt like starting from zero again, but it was a lot more fun than the previous year," Bird said. "I took the pressure off and was just enjoying it and then kind of got into good shape and kept going."
Bird's results that season were mixed. She finished 15th at the West Coast Conference Championships and 42nd at the NCAA West Regional, a little lower than a year earlier, but McCurry saw her potential. "I figured out that Lizzie was astronomically better than what she had achieved and a phenomenal competitor," he said.
At the end of that season, McCurry told Bird he thought she could make Great Britain's world championships team in the steeplechase the following summer. She had run 9:54.76 and would need to run 9:40.00 or faster. She figured she had nothing to lose and decided to give it a shot.
It was also at USF that Bird began thinking about law school. She became interested in immigration while at Princeton, but at USF, she started working with law professor and immigrant rights advocate Bill Hing and was inspired by his work. "He became a really great mentor for me, and I thought, 'I want to do what he does,'" Bird said. "And the first step in doing that was going to law school."
So in 2019, Bird became a volunteer assistant at USF and continued training with the team while working as an immigration paralegal at a law firm in San Francisco. Not only did Bird make Great Britain's team, she lowered her PR to 9:30.13 at the world championships and narrowly missed making the final. She decided to become a full-time runner and see how far she could go. She didn't have any sponsorship offers, but the Olympics were only about a year away, or so she thought. Law school could wait.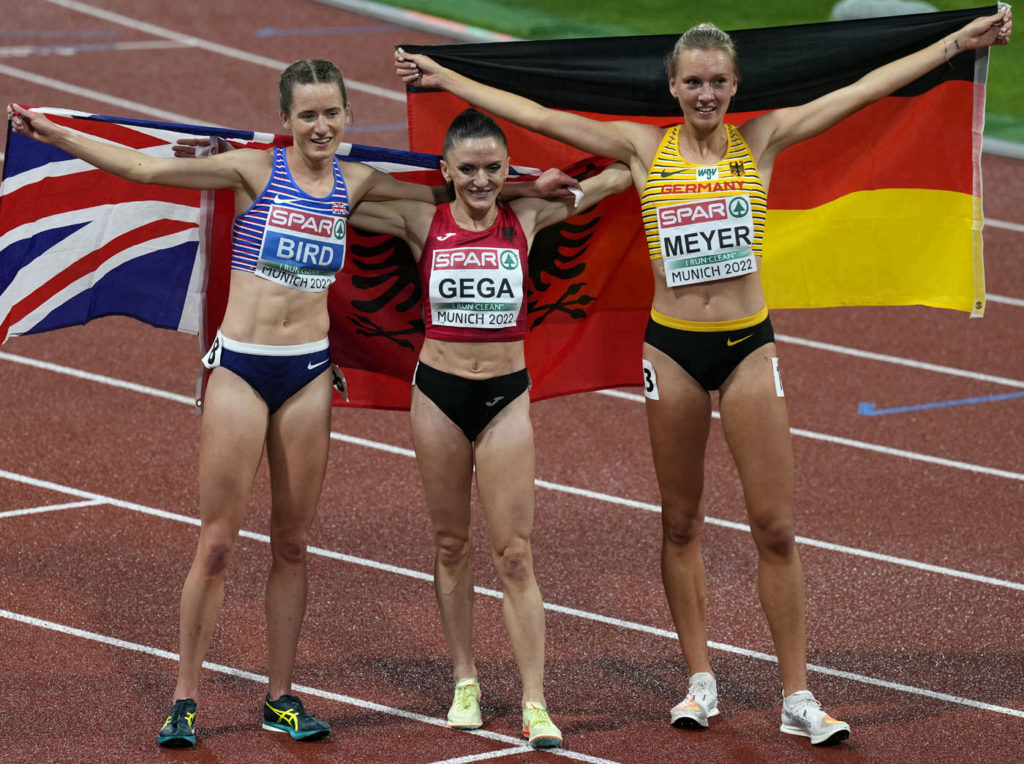 Going all in
The pandemic threw a wrench in Bird's plans. Her visa was expiring and with international travel becoming difficult, she moved back to the UK in 2020, first living with her parents in Scotland for a couple of months before going to Leeds to train with a group. Bird's partner was still in San Francisco, but they had plans to move to Boulder, which they did when the borders opened up in early 2021.
After fellow UK athlete Eilish McColgan connected her with Asics, Bird signed her first pro deal with the company in 2020. And she now receives some funding from British Athletics as well.

When racing picked again in 2021, Bird was ready. In May, she hit the Olympic standard in the steeplechase, running a PR of 9:26.73. The following month, she won her first of two British steeplechase titles. And in July, she ran 9:22.80 at the Monaco Diamond League meet to break Barbara Parker's British 3,000m steeplechase record that had stood since 2012. She capped her season with a ninth-place finish in the Olympic final, lowering the British record to 9:19.68.
Adding law school
Part of Bird's interest in studying immigration law stems from her own experience. "Moving around a lot growing up, for the most part, was pretty straightforward for me," Bird said. "I was very privileged, and I realize that that's because I'm white and British and middle class. The more I learn about the immigration system in [the US] and a lot of other countries, the more I realize it's just incredibly racist and cruel. I want to try to help make it a little bit easier for other people."
Law students are expected to have summer jobs, and last summer, Bird balanced her work for the National Immigration Project with her busy racing schedule. It went smoothly, for the most part. The day before the Monaco Diamond League meet, Bird was about halfway through her pre-meet routine when she realized that she had a work meeting in about 30 minutes. She quickly rearranged her schedule and made it to the meeting on time. She also did some work the next day, before running 9:07 and reclaiming the British record, which Aimee Pratt had lowered twice at the world championships. "The weeks that I took off, for Worlds and Europeans, I didn't race so well, so maybe it was a good thing, having that distraction," Bird said.
Bird and McCurry think a big reason Bird has progressed so well in recent years is that she has been able to string together years of healthy training. McCurry, who coaches her remotely, says he is focused on having her hit key sessions, and on single-session volume. He doesn't emphasize cumulative volume. As a result, Bird's mileage is lower than that of many pro runners. She estimates that the most she ran in one week in 2022 was 58 miles. Her mileage tends to hover around the low to mid 50s in the winter, and she usually runs six days per week, but sometimes only five. "I'm sure I could do a couple extra four-mile runs during the week that would up my mileage but I'm not sure how much value that would add," Bird said.
She crosstrains one or two times per week and follows a strength training program written by Maj Skok, who is based in Leeds. The program is much more comprehensive and steeple-specific than what she had done in the past, and she believes it's part of what has helped her stay healthy.
Bird doesn't have any concrete racing plans heading into 2023, but she's looking forward to having an easier time getting into races, based on her success last year. In addition to running consistently well in the steeplechase, she would like to bring down her 1500m PR. It currently stands at 4:12.53, but her 4:22 road mile indicates she can go a lot faster.
After a disappointing run at the 2022 world championships, where she didn't make the final, Bird is glad that 2023 is another world championships year. This time around, she wants to make the final and be competitive with the front pack. "I think chasing medals is more exciting than chasing times," she said. "And I think it's more difficult, too, to really hit your peak on this one specific date. So that's the main goal."