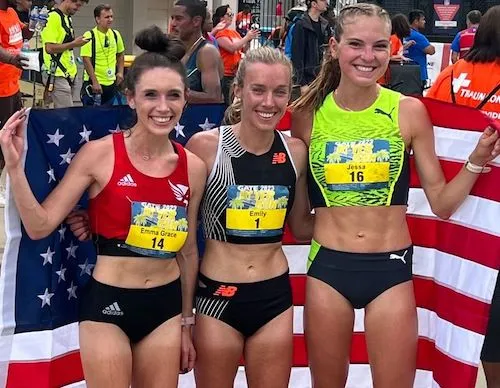 The surprise of the USATF 15K Championships was Emma Grace Hurley's runner-up finish, in 50:04. The Atlanta Track Club Elite runner finished 98 seconds behind Emily Sisson, and 71 seconds ahead of the third-place finisher, Jessa Hanson. And striking out on her own was not part of Hurley's pre-race plan, but she followed her instincts.
"I told myself, 'Stay attached for eight miles and then race,'" Hurley told Fast Women by phone, shortly after the race. But just before the mile mark, she found herself trying not to one-step her competitors. "So I decided, 'You know what? I feel good, I may as well go for it. If it's going to be my day, it's going to be a day that's hot and humid, being from the south.' So I went." At the 5K mark, Hurley was only 16 seconds behind Sisson.
Hurley, 25, has shown good fitness this season, running 8:51 for 3,000m just over a month ago, but by the five-mile mark, the distance, longer than she usually races, began to catch up to her. On some of the race's tight turns, she glanced back, to see what was happening behind her. "At one point, I stopped being able to see other women behind me, I could only see Emily in front of me. I thought I was losing my mind," she said. "I could hear cheers, but it would be when I was around the next block. I didn't really believe that that was actually happening."
Hurley and her coaches, Amy and Andrew Begley, knew she was capable of a performance like this one, but they didn't necessarily expect it to happen on Saturday. "I don't know that it changes what I think I can do, I just think that it affirms what I think I can do," Hurley said. "Training has gone really well and I'm surrounded by people who believe in me and think I can do really well this year."
Hurley graduated from Furman in 2020, having missed her final track season when it was canceled due to the pandemic. At first, she took a relatively standard post-collegiate route, working full time and putting running on the back burner. But then she started helping coach a high school team, and her co-coach saw her potential and helped her see that she wasn't done with high-level running.
"I think that part of the reason I really even considered running again was I felt like I left a lot on the table in college," she said. Hurley ran 15:57 for 5,000m while she was at Furman, won a conference title in the indoor 3,000m, and had a highest finish of 51st at the NCAA Cross Country Championships, but she never qualified for NCAAs as an individual.
Being from Atlanta, Hurley already had ties to the Atlanta Track Club, and she began training with the team in November 2021. The team's elite and developmental squads include a lot of middle-distance runners and marathoners, but not many athletes who run the in-between distances like she does. "I'm always doing a workout with someone who is either way stronger than me or way faster than me," Hurley said. "I'm never the one in the workout crushing it. I'm almost always going to be getting beat at the end, especially in track workouts, if we're finishing with a 400m or a 200m. I'm always going to be pushed."
Hurley works close to full time in sales at a small technology company, and she feels fortunate that her employer allows her the flexibility to make it to team workouts.
Next up, Hurley plans to race the Atlanta Women's 5K on March 25 and the B.A.A. 5K on April 15. Does her success at this long race mean she might explore the longer distances more? "One of the things I told myself this morning was, 'Okay, just get through this and this is the longest you have to race for another six months or so,'" Hurley said. "We might consider some longer things earlier than planned, but we'll have to see."