Emily Mackay's talent on the track has long been apparent. As a junior at New York's Union-Endicott High School, she ran 4:25.32 in the 1500m at the 2015 New York State Meet to finish second in a thrilling race with Sammy Watson, who is also a professional runner now. But iron deficiency, followed by a persistent injury, led Mackay to lose fitness and confidence in her abilities, and it took several years for her to work her way back. Now that she has, the first-year professional runner for Team New Balance Boston is on fire.
Mackay, 25, has been running massive PRs in recent years, and her dramatic improvement makes more sense once you know her story. But first, it's important to know that Mackay is pronounced Mc-EYE. It's a name most people, including race announcers, tend to get wrong.
Mackay achieved her 4:25 1500m as part of a low-key high school program, running 20 miles per week, maximum. There were some intense track workouts, but a standard day of training involved 2–3 miles of running. Mackay's senior year, she kept getting slower, which only made sense when she learned of her iron deficiency, after her track season was over. She took some time off and supplemented with iron, but while ramping her training back up she developed a toe injury that went on for months.
Mackay arrived at Oregon State injured, and after a couple months, she stopped trying to run and crosstrain altogether. She was homesick, she wasn't enjoying running, and she decided to transfer home to Binghamton University, thinking she could be happy there whether she was running or not.
Mackay enrolled at Binghamton in the fall of 2017, unsure if she would ever run as fast as she did in high school. And at first, she didn't give running her best, as a coping mechanism. "[My high school] time, 4:25, seemed very intimidating to me, as someone who couldn't break 5:00," she said. "I didn't want to go all in, because then if I failed, it would feel worse than if I was like, 'Oh, but I wasn't trying that hard anyways.'"
By the spring of 2019, she was running times similar to those she had run in high school. But it wasn't until early in 2020 that she really decided to see how good she could be, both academically and athletically. "I just had this epiphany of, like, 'What am I doing?'" she said. "I think it was my friend group that really inspired me to just start going all in, and I noticed huge results pretty quickly, both in classes and running."
Academically, that meant spending more time studying. Athletically, that meant making sure to stretch and foam roll, and focusing on nutrition for the first time in her life. She took a nutrition class that helped her realize how much getting all the nutrients she needed would help with her running.
She had been nervous about increasing her mileage due to past niggles during cross country season, but Mackay also began running more. When the pandemic shut down her season, she stopped doing workouts, which made it easier to get more miles in. "During Covid, running was just the best part of my day, and I kind of fell in love with it again," she said.
By the end of college, Mackay was running 50–55 miles per week—not high mileage compared to many of the athletes she was racing against, but it was a significant jump from the 35–40 she had been doing and the 20 she did in high school.
When Mackay returned to racing, her performances skyrocketed. In March 2021, she finished 14th at the NCAA Cross Country Championships, earning her first of three first-team All-America honors. She ran 4:30.94 for the mile, 8:54.45 for 3,000m, and capped her career with her highest NCAA finish, taking sixth in the 1500m at the 2022 NCAA Outdoor T&F Championships in 4:11.10.
By the end of a long season of trying to run fast enough to earn a pro contract, Mackay was feeling pretty burned out. But when she lined up for the USATF Outdoor Championships less than two weeks later, wearing the New Balance kit for the first time, the pressure was off. She had achieved her dream. "It just felt like the moment where everything I had been working so hard for all year had finally happened," she said. "Here I was, lining up as a professional runner for the first time. Nothing beats that feeling. I just felt super thankful to be there."
She knocked her pro debut out of the park, lowering her 1500m PR to 4:08.97 in the prelims and then finishing seventh in the finals. The fact that she was racing in carbon-plated spikes for the first time didn't hurt, either.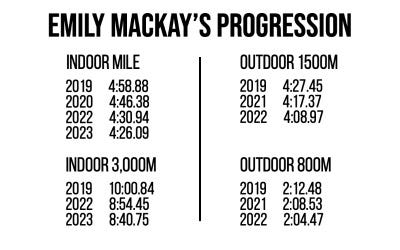 New Balance Boston was Mackay's top choice because of its proximity to home, the fantastic training partners (including Olympians Heather MacLean and Elle St. Pierre), and the opportunity to be coached by Mark Coogan. And she is pleased by how tight-knit the team is. "There's just pretty good vibes on this team," she said. "It feels like a true team environment, even though we're obviously all really super competitive individuals. We're able to function as a team in a very cooperative way."
The move to pro running has been challenging at times. The team does regular altitude camps in Flagstaff and workouts at altitude hurt in a whole new way. But her body is responding well. Figuring out which shoes were best for her also took a while. She thought she needed a stability shoe, but testing in New Balance's research lab revealed that she actually has a neutral footstrike. (She now runs most of her easy miles in the New Balance 880s.)
Her hard work is paying off. In February, Mackay became the 100th American woman to break 4:30 in the mile, going well under with a 4:26.09 mile indoors. Six days later, she won a 3,000m with a 13-second PR of 8:40.75. And the week after that, she earned bronze in the 3,000m at the USATF Indoor Championships in Albuquerque (around 5,000 feet above sea level), behind two athletes who have lived and trained at altitude for years. The outdoor season is just getting started, but she has already taken 28 seconds off her 5,000m PR, running 15:14.31 on May 6 at the Track Fest.
Mackay is now running 70–75 miles per week, another big jump. She appreciates that Binghamton coach Annette Acuff brought her training along gradually and left room for growth. And she thinks that by choosing a smaller school, she received more individualized coaching, with less pressure to do anything extreme to help the team. "She wasn't putting us in three different events and killing us at the conference meet before trying to run regionals," she said. "I feel like I have a lot of room to grow, and I'm not coming out of college already having reached my full potential."
Mackay's times have dropped so quickly that sometimes her brain has to catch up with what her legs and lungs can do. "Though I do feel like I belong, it's a different mental game lining up against professionals, as opposed to lining up collegiately," she said. "I think I have a lot of room to grow, mentally."
This year, she hopes to get her 5,000m time as close to 15:00 as possible, and she's shooting for a 4:03 or faster in the 1500m. She plans to race the 1500m at Friday's USATF Distance Classic, and she's still figuring out her next race after that. It won't be a surprise if her times keep coming down. "I know it's obviously going to keep getting harder and harder to [make large jumps]," she said. "But I think that if I keep going on the path that I've been on, it's possible."
This feature is sponsored by New Balance.