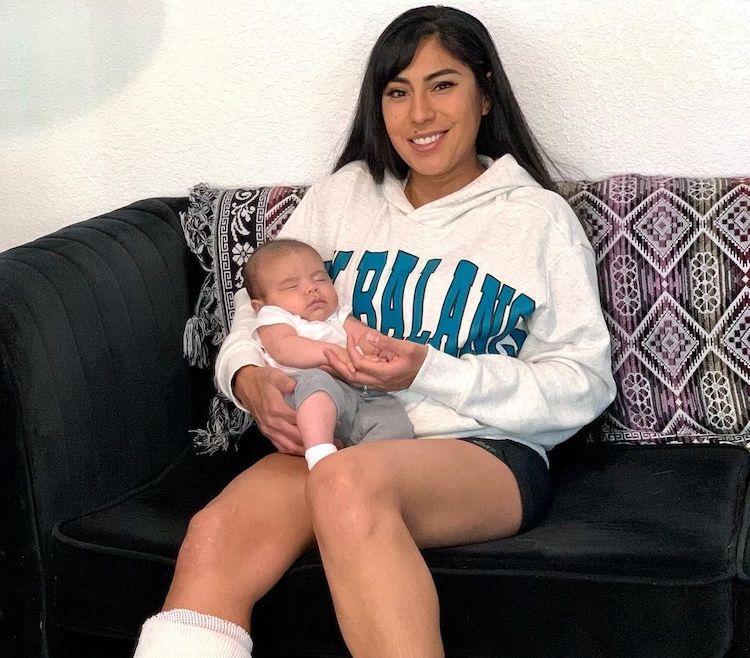 New Balance professional runner Brenda Martinez gave birth to her daughter, Socorro "Coco" Belen Handler, on February 28, and she says she wouldn't trade the experience for anything. "This is probably one of my proudest moments, being a mom," Martinez told Fast Women by phone last week. "I kind of trip out every day, like I can't believe me and my husband made this extension of us, but she brings a lot of joy to our lives. Looking back, I'm like, 'I should have had more sooner.' I love it, it's very rewarding."
When it comes to proud moments, Martinez, 35, has many to choose from, including earning a silver medal in the 800m at the 2013 World Track & Field Championships, making the 2016 Olympic team in the 1500m, and mentoring high school runners through the free camp she started a decade ago.
Though it's rewarding, parenting has already come with its share of challenges. Shortly after Martinez arrived in the delivery room, she tested positive for Covid, which meant she had to throw out her birth plan. The first three days of her life, Coco, her father, Carlos Handler, and Martinez were stuck in quarantine at the hospital. In addition to having a fever and chills during the delivery, Martinez lost her voice, but she had a relatively smooth recovery after her first, poorly-timed bout of Covid.
The first month was a challenge, too, as Coco struggled to latch and Martinez worried about her milk production slowing down. But she sorted it out. "There's definitely a learning curve and I think I just over-thought it in the beginning," she said.
And 10 weeks after giving birth, Martinez underwent surgery on her right Achilles. Though the timing was unusual, it also made sense. She had been dealing with Achilles problems off and on since 2016. Before she got pregnant, she knew that if she wanted to continue in the sport, she needed to do something about it. She began consulting with doctors—each of whom had wildly different opinions about what she needed. Before she settled on a plan, she learned she was pregnant, which put a halt to all imaging.
But once Martinez had recovered from childbirth, she was eager to move along with the surgery, partially because she knew taking care of a baby while recovering from surgery would only get tougher once Coco becomes mobile.
An MRI showed that her Achilles was partially torn, and the surgery revealed that there was also thickening in the tendon and a bone growth—Haglund's deformity—so her surgeon, Dr. Kenneth Jung, took care of that as well. Once her Achilles is healed, her doctor doesn't expect she'll have any more issues.
Parenting on crutches, with a cast, was tough. Handler had to stay home from work to help Martinez, because she was unable to carry Coco. Things got slightly easier when Martinez graduated to a boot, but she was still on crutches and couldn't put a lot of weight on her foot. "I literally just camped out in my living room and I had everything that I needed for her," Martinez said. "I had her changing station on the couch, I had her rocker right next to me. We made it work, but it was super humbling that I couldn't walk and hold my own baby."
Martinez has been doing a variety of therapies to help facilitate the recovery of her Achilles, while also trying to remain patient. "It's been a time to just rest and enjoy [Coco], and I think it's benefitting her, too," she said. "I think it's made our bond a lot better."
Recently, Martinez has been testing out walking without the boot, and last week, she did her first post-surgery mile with a shoe on, walking a mile while pushing Coco's stroller. Martinez hasn't competed since the 2021 U.S. Olympic Track & Field Trials, but she hopes to return to racing at the elite level. "I still feel like I have a lot to prove to myself, that I can do more on the track," she said. "For the longest time, before I even thought about having surgery, I thought I'd switch to the roads and that I couldn't handle the track anymore. But the doctor says I should be good to go, so I think I want to do some track races and maybe slowly transition to the roads."
If all goes to plan, Martinez is hoping to run some longer road races in the fall, race a couple times indoors, and then focus on the 2024 outdoor season. As far as the event she'll focus on, she says she's going to play it by ear, depending on how her training is going.
Martinez is still coached by Joe Vigil, 93, who faxes her a training schedule each month. Handler serves as her on-site coach, and they report back to Vigil. Martinez says Vigil, who has coached her throughout her entire professional career, is still constantly learning and figuring out how to integrate new ideas into her training.
Between being a new mom and undergoing surgery, Martinez is taking a year off from hosting her camp for high school kids this summer, but she plans to continue giving back in that way for as long as she can. Martinez hasn't thought too much about what she'll do when her running career is over, because there are so many moving parts that will go into that decision. For now, she's focused on raising Coco and seeing what other running goals she can check off. "It would be nice to have Coco see me run when she's old enough to understand what I'm doing," she said.
This feature is sponsored by New Balance.