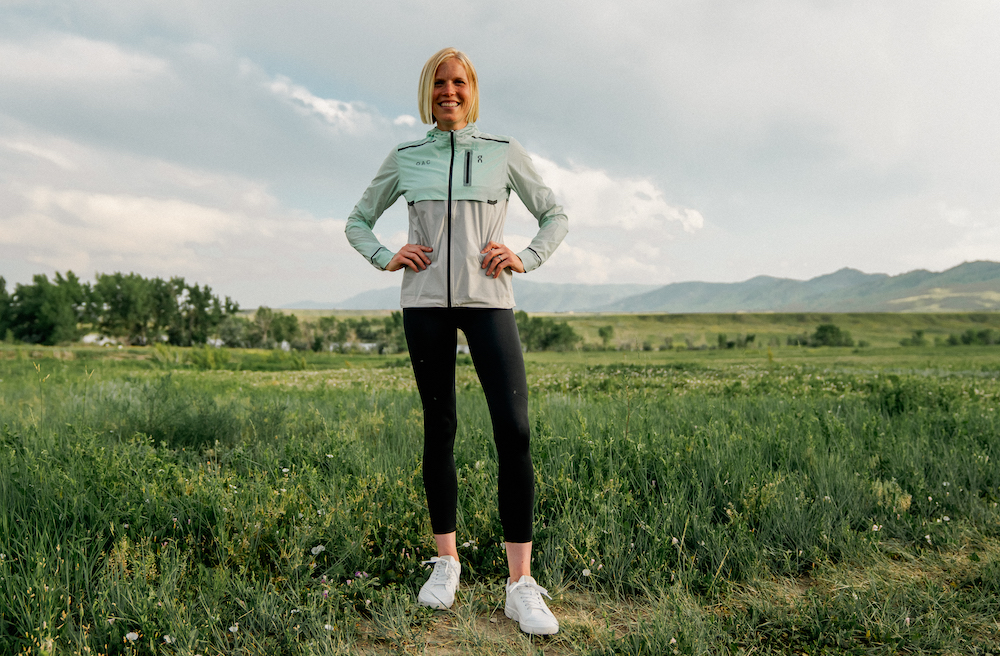 The On Athletics Club (OAC) announced today that Kelsey Quinn has been hired as the team's first assistant coach. The Boulder, Colorado-based team cast a wide net as they looked for the right person to work alongside head coach Dathan Ritzenhein, and out of the more than 150 applicants, Quinn stood out.
She coached collegiately for eight years, making her last two stops at the University of Portland and the University of Utah. Quinn, 33, left the NCAA in 2022 to coach the Portland, Oregon-based Rose City Track Club, Team Athena, and members of the Jacuzzi Boys Athletic Club. She also coaches, and will continue to coach, individuals.
A lot of the coaching hires in the running world are based on personal networks, but Quinn had no ties to the team when she submitted her application. Coaching a professional group had been a long-term goal of hers, and the OAC topped the list of teams she hoped to work with. So when the opportunity came up, she knew she had to give it a shot. The team is not quite three years old, but it has made a big splash in a short time, with stars including Hellen Obiri, Alicia Monson, Josette Andrews, Sage Hurta-Klecker, Yared Nuguse, Joe Klecker, Olli Hoare, and Geordie Beamish.
Quinn is a distance runner now—she has raced as long as 50K—but during college at the University of Iowa, she specialized in the 400m hurdles. While earning her Masters of Science in Kinesiology at Iowa State University, Quinn did research on endurance athletes, and then she began coaching them.
She believes her slightly unconventional path has helped her. "I think it's been to my advantage, because a lot of people don't have the sprint mechanics background," she said. "A lot of times, you don't see those drills applied to distance runners, but they should be doing them. Everyone should know how to run fast."

Quinn expects that the pro racing schedule is going to be more family-friendly than it was in the NCAA, where student-athletes compete nearly year-round. Like Ritzenhein, Quinn has two children, but hers are younger—she has an 8-month-old and 2-year-old. "Dathan and I had a really good in-depth conversation about the travel piece and that it's going to look different for me, because I have young kids," she said. "It felt very much like a situation that was manageable for me and my family."
Having two coaches will help the team cover situations where the team splits up. Like this week, when much of the team is in Eugene, Oregon, for the USATF Outdoor Track & Field Championships, there are still plenty of athletes back in Boulder, because the team is international.
When the assistant coaching position was posted, some expressed concern over the fact that the salary was listed at $50,000 (plus $8,000 in On products) with the note that it's a 1099 position, and the assistant coach would not be working directly for On AG. While it's relatively competitive when compared to some collegiate coaching positions, people argued that a shoe company should do better, and that the money wouldn't go far in the Boulder area. An On spokesperson told Fast Women that they couldn't disclose contract specifics, but said, "We are making sure [Quinn], and every athlete and coach, are compensated fairly and have growth opportunities."
This 2021 Runner's World article asked why there aren't more female coaches in charge of professional teams. And while there's still work to do before women are adequately represented, things are changing. Since 2022, Julia Lucas (Atalanta NYC), Diljeet Taylor (Taylor Made Elite), Lara Rogers (Under Armour Mission Run Baltimore Distance) have become head coaches of professional groups, and now Quinn has a prominent role working with one of the highest-profile teams in the country.