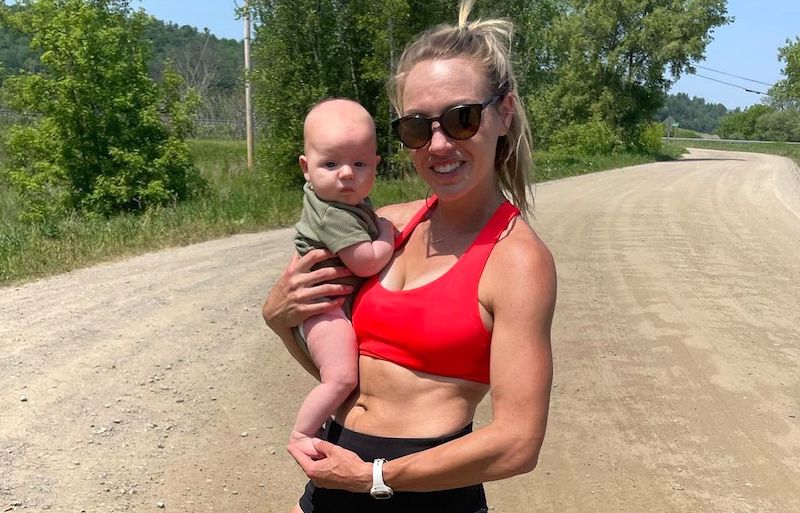 Elle St. Pierre is an Olympian, world indoor championships medalist, American record holder, and U.S. champion on the track. And over the past year, she has taken a step back from her career. She gave birth to a son, Ivan, on March 4. 
St. Pierre, 28, had long wanted to have a child, but putting her racing career on hold while she was at the top of her game has been challenging at times. After winning the 1500m at the 2021 Olympic Trials and finishing third at last year's U.S. championships, she said it was bittersweet watching this year's 1500m final from afar.
"I knew I was where I needed to be, sitting at home, holding Ivan on my lap," she told Fast Women. "It gave me a lot of motivation to get back, but I also felt content. I'll be back out on that track and on the TV soon."
During last year's USATF Championships, St. Pierre experienced what she thought were pre-menstrual cramps. But her period never came. The day she got home from the meet, she took a pregnancy test and found out why. Her third-place finish at USAs qualified her to represent the U.S. at the world championships the following month, and with her doctor's blessing, she decided to compete as planned.

During the world championships, she was eight weeks pregnant, and her nausea was at its peak. But St. Pierre still managed to run 4:04.94 and advance to the 1500m semifinals. She told some key people what was going on, but otherwise she kept her news to herself, telling reporters after her race that she wasn't feeling like herself. After racing, St. Pierre felt so sick that she went to the hotel room her husband, Jamie St. Pierre, was staying in, to recover, so her roommate wouldn't get suspicious.

She called it a season after that. St. Pierre announced her pregnancy last September, did an ad campaign for her sponsor, New Balance, and was able to run throughout most of her pregnancy.
St. Pierre had an intense labor, and in the days that followed, she would cry thinking about what women go through and what a miracle childbirth is.
"I've been in a lot of pain in my life, just from training and racing," St. Pierre said. "I feel like I'm pretty tough, and I have pretty high pain tolerance, but it was just so different. I've heard people compare it to racing, and I just couldn't disagree more. A 1500m is four minutes long, and it really doesn't hurt until the last two minutes. I was in labor for over 12 hours."

Since Ivan's arrival, St. Pierre has been adjusting to the many changes that come with being a new mother. Though she has a lot of support from her husband and family, she said she was surprised by how isolating the first month was. And she's gotten used to how everyday household tasks take much longer when there's a baby involved.
St. Pierre got different messages from her doctors about when it was safe to resume running, so she went with the answer she liked the most and started doing some easy running again three weeks postpartum. "It definitely felt like garbage for the first month, but it slowly started to feel better," she said. "And recently, I've really started to turn the corner with training and feeling more like myself."
At first, she ran by feel. More recently, her New Balance Boston coach, Mark Coogan, has been sending her workouts, not for the track yet, but for the roads and local rail trail. She was on target to run her first postpartum 80-mile week last week, which is the kind of mileage she was running in the thick of training, pre-pregnancy.
There's been a mini baby boom among pro runners recently, with Brenda Martinez, Rachel Smith, Kate Grace, Abbey Cooper, Kellyn Taylor, and St. Pierre all having babies around the same time. St. Pierre says she has compared notes with some of them, and Molly Huddle, who has a 14-month-old, has talked to her about being diligent about fueling while breastfeeding. St. Pierre is doing her best to prioritize sleep as well, helped by the fact that Ivan is a pretty good sleeper, most of the time.
Because parenting a newborn is such an all-consuming role, getting out for a solo run can feel like a special kind of freedom. "My run every day is my time," St. Pierre said. "This break has really helped me grow a bigger appreciation for running and just the joy of it. Coming back from pregnancy and childbirth is a whole new challenge, and I'm just loving running again. I was almost feeling a little burnt out before, so this is like a fresh start, and I'm really excited. It's been a lot of fun so far."

St. Pierre's mother has been watching Ivan this summer, while St. Pierre does her training or goes to help out where she can on the family's farm. One of her favorite things is how Ivan's face lights up with a smile every time she returns from a run.

St. Pierre lives in Northern Vermont, her team is based in Boston, and she regularly does altitude training stints in Flagstaff. She's still figuring out exactly what the logistics will look like as she gets back into serious training, but as long as she's nursing, she expects that Ivan will mostly go where she goes. So when the team heads to Flagstaff next winter, she and Ivan will both go. She expects that Jamie will join them for a week, and she'll try to find someone to accompany her and help out while she's training. Otherwise she plans to be back and forth between Vermont and Boston a lot.

She's been encouraged by the many women before her who have taken maternity breaks before doing some of the best running of their careers. "They're setting the bar higher and showing it's possible," she said. "I also think sponsors are being more supportive of women as well, so it's kind of a new era."

She hasn't announced any racing plans yet, but she's hoping to run some road races this fall. And she appreciates that the pressure is off, because no one is expecting much from her this year.

Being successful right out of college has meant that St. Pierre hasn't had many breaks in her racing schedule over the past five years. "It feels like it's non-stop, so it's almost like I made my own break in a way," she said. "I'm feeling more refreshed and excited about running than I have in a long time. I'm just really thankful for all the support that I've had throughout this chapter in my life, and I'm really excited to get back at it."
(This is an excerpt from the Fast Women newsletter. Subscribe via the link below.)